The Co.
4.96 • 48 reviews
Tanjong Pagar | Co. @ Duxton
99 Duxton Road, The Co., S089543, Singapore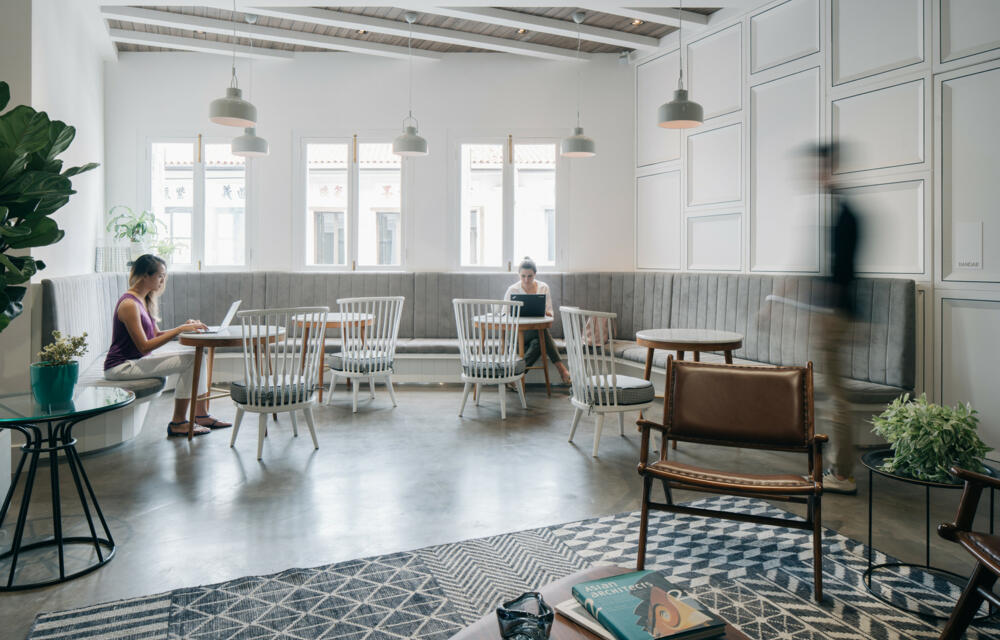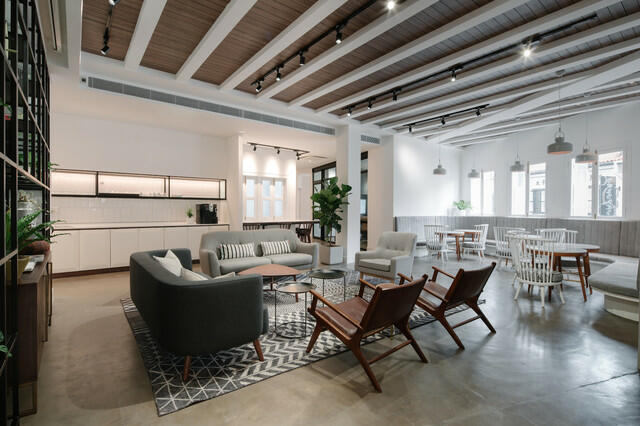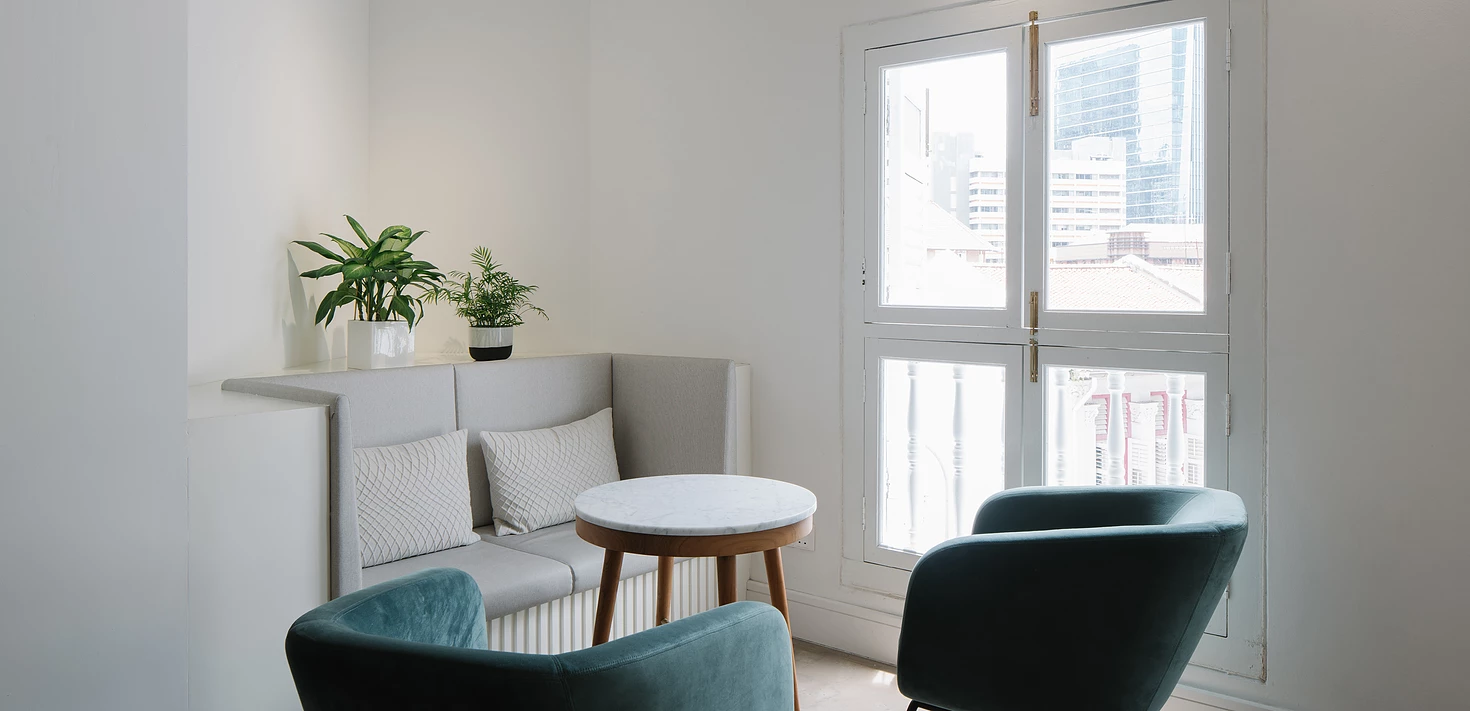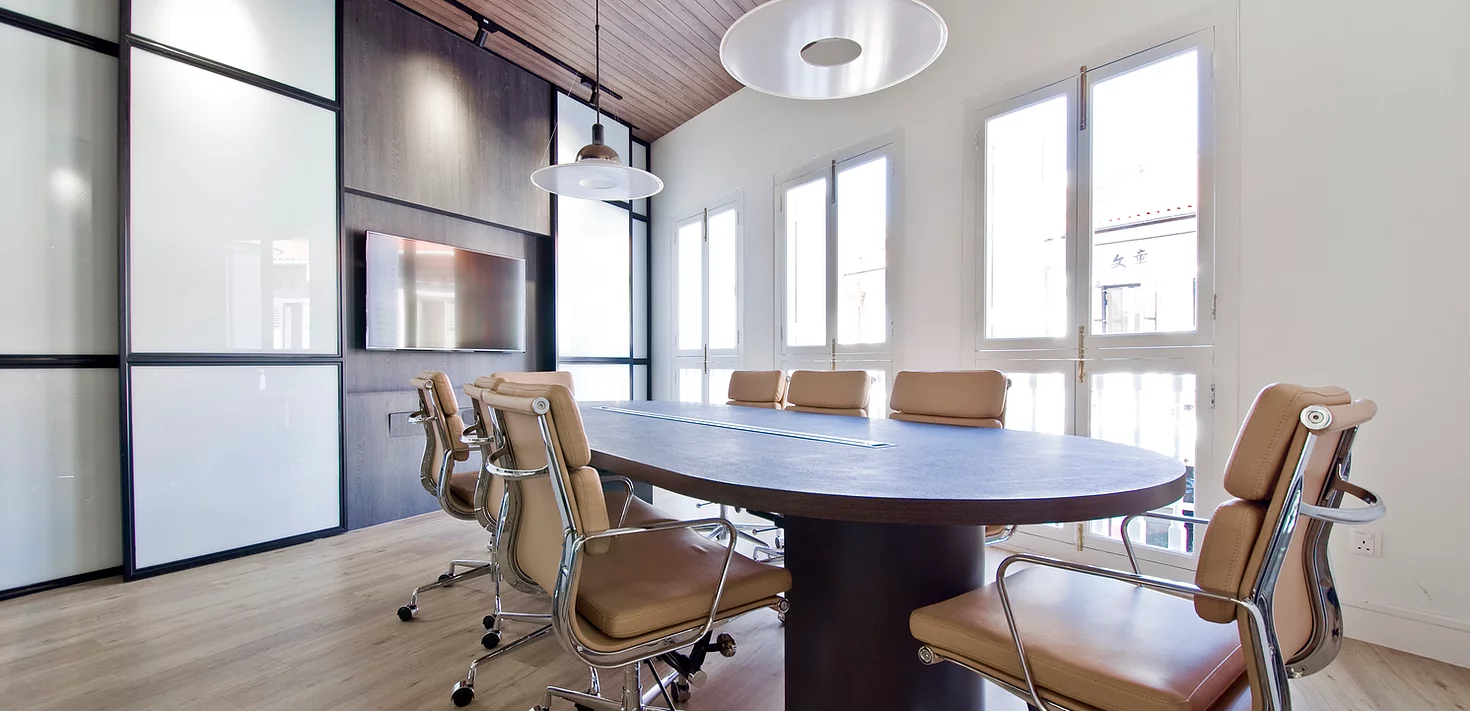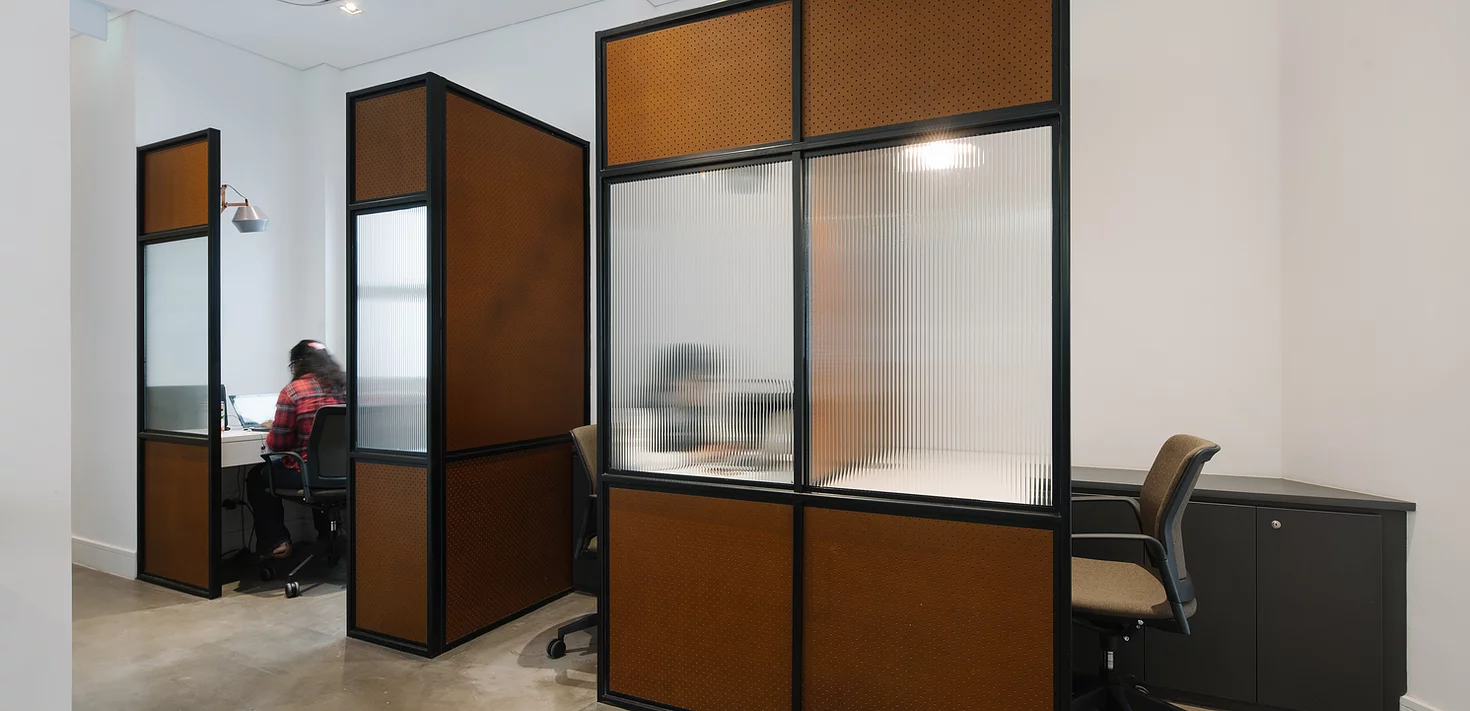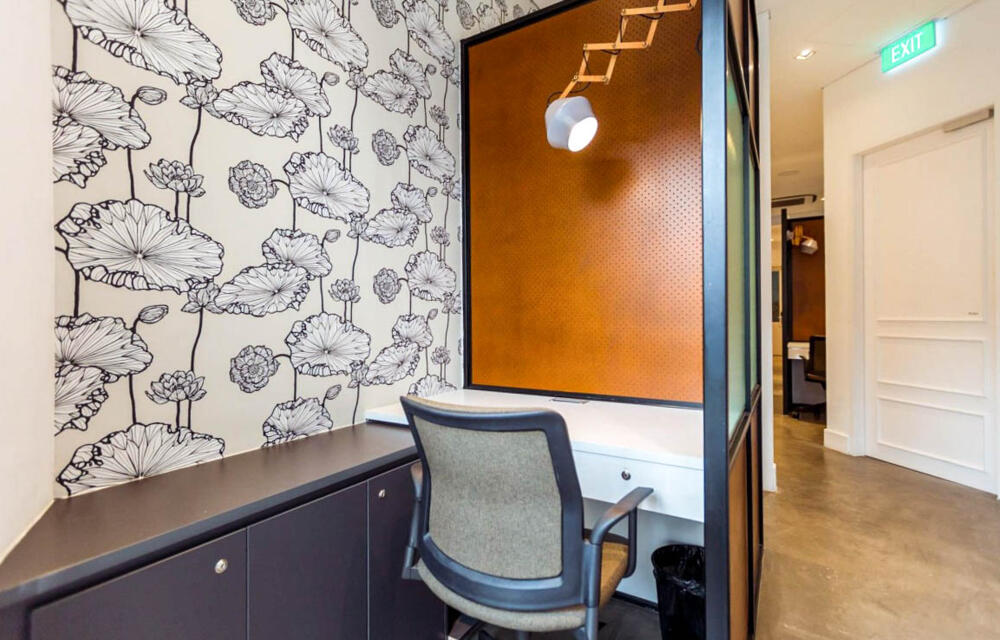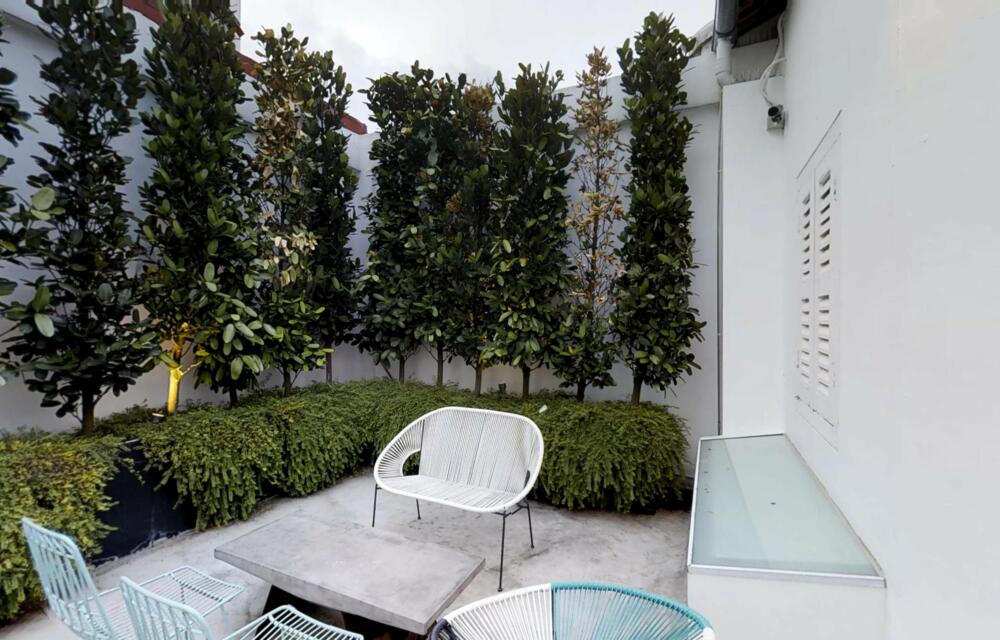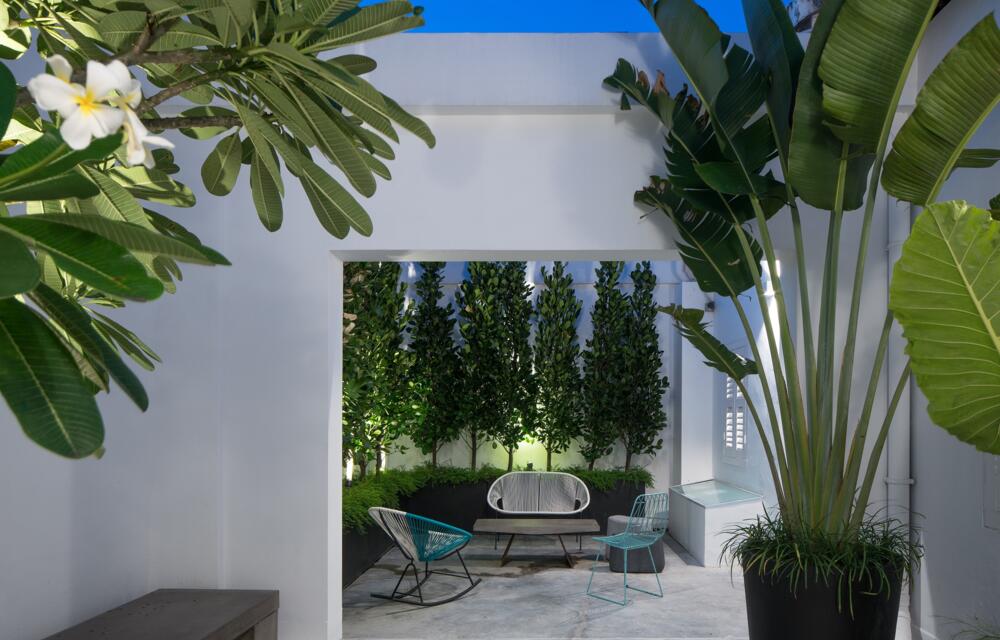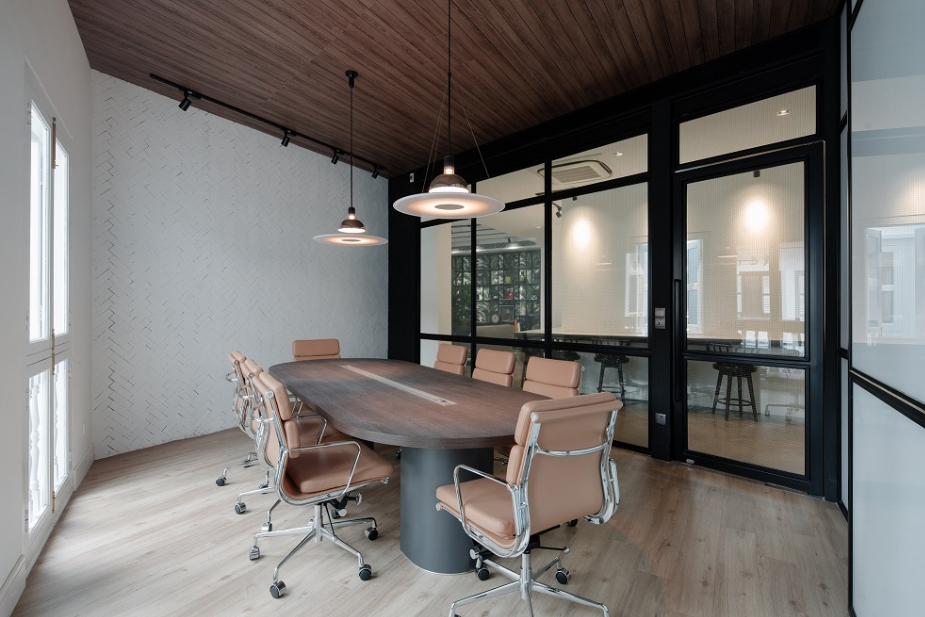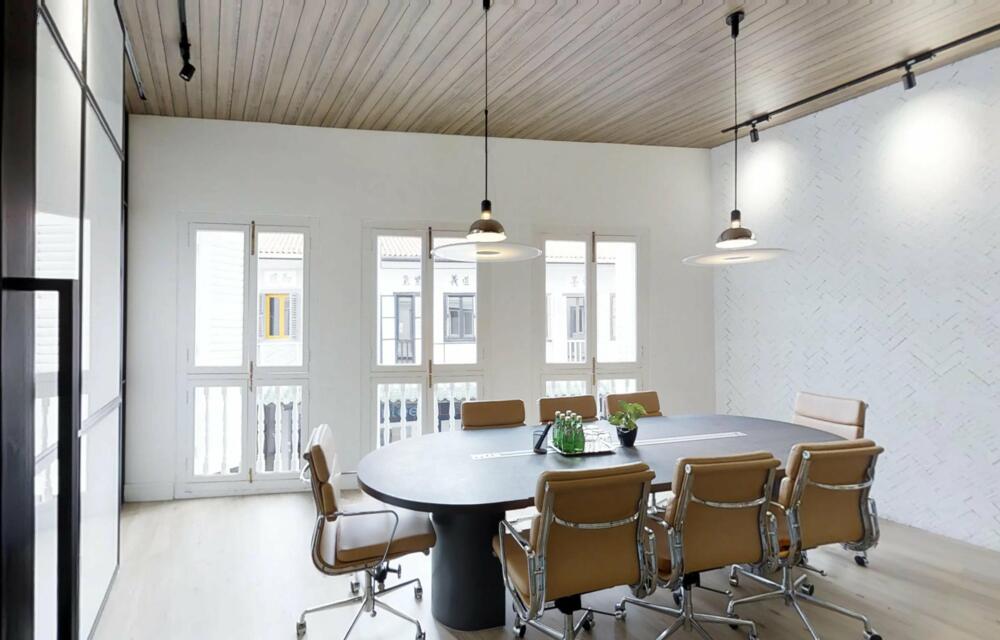 Billing rate
Pay only for the time you use.
Daily Rate:
45.00 SGD
Pay by the minute and stay as long as you want. You'll never pay more than the Daily Rate.
Amenities

Natural Light

High Speed Wifi

Hot & Cold Water

Coffee & Tea

Pantry

Lounge Area

Printing Facilities

Private Lockers

Office Supplies

Meeting Rooms
You need to pay extra fees to use other amenities. Please approach the Community team at the front desk to purchase amenities.
About
A revivifying interpretation of the local community centre (or more affectionately, CC), our goal is to bring diverse people together in a warm and supportive space while inciting new perspectives through art, wellness, food and drinks.
Nestled in a heritage shophouse at the heart of the culturally alluring Duxton neighbourhood, we conceptualise, host and curate programmes in line with our 3 pillars: culture, wellbeing and social. While being a social space for events, we also offer personalised workspaces and an amicable and conducive shared work environment with other curious and creative minds.


Schedule
Today

Operational Hours

Mon - Fri

9:00 AM - 6:00 PM

(closed on public holidays)

Community Team Hours

Mon - Fri

9:00 AM - 6:00 PM

Aircon Hours

Mon - Fri

9:00 AM - 6:00 PM
House Rules
ACCESS
Access Card
To facilitate the Co's protocols during emergencies and situations surrounding safety and security, community members must provide or update their employees' contract information for our records. Keys and access cards will always remain the Co.'s property. Community members are neither allowed to duplicate access cards nor hand over access cards to anyone who is not a registered community member. Any loss of access cards or keys must be reported immediately and a penalty fee of $50 per access card or $15 per key will be charged for replacement.
Guests
Community members are welcome to bring guests to our premises at any time. However, guests should not be left unaccompanied. Should guests need to use the space independently and/or for an extended period of time, they should speak to our community team for a coworking pass.
CONDUCT
Noise Level
Please practise mindfulness and keep a moderate volume in the common area. This includes conversations offline and online, music or noise. Community members are encouraged to step out for a longer call, such as to the first floor of our premises or to the Courtyard on the second floor.
Furniture
Let's be considerate to fellow community members. Refrain from moving the furniture within our premises and congregating in large groups at the communal space. Should you require an event space, please speak to our community team who will be happy to work out the details with you.
Smoking Policy
Smoking is prohibited in our premises, including the Courtyard on the second floor.Transgressors will be dealt a penalty fee of SGD 300. Please proceed to designated outdoor areas for your smoke break.
Decorum
We are an inclusive and supportive space that encourages commingling and collaboration. As such, we hope that our community members will always respectful and mindful to everyone they encounter within our space, including the community team. Inappropriate and discourteous behaviour will not be condoned, including but not limited to harassment,
posting of inappropriate content or violent content online, profanities as well as
SAFETY AND SECURITY
Camera or Recording Devices
Any usage of cameras and/or recording devices is prohibited in common areas except with a special permit for specific occasions. Please approach our community team should you require any further assistance for permit approval.
Emergency Exits
Please keep all emergency exits, corridors and stairways clear of any obstruction. Community members are not allowed to keep ajar any entrance/exit or connecting corridor doors during or after business hours for the safety and security of all community members and our community team.
Equipment
Without prior written consent from the community team, we ask that community members refrain from storing or operating in their office any large business machine, reproduction, equipment, heating equipment, stove, microwave, toaster, sandwich maker, radio, stereo equipment or other mechanical amplification equipment, vending or coin operated machine, refrigerator or coffee equipment. Also, no flammable substances, offensive gases, odours or liquids, please.
Internet Access
Community members should not upload or download illegal files or files that they have no rights to, via the Internet access provided at the Co. The community team periodically monitors data usage to ensure a consistent and quality Internet service for all community members. The Co. adopts the fair usage policy which limits the usage of one user over another at peak times so that the performance of the broadband is not affected for other users. This is to ensure that the best quality of broadband is available to the maximum number of users.
Personal Belongings
Let's be accountable for our personal belongings by ensuring that the office door is locked at all times. For community members who use the Den or common areas, please remember to lock away important items in the lockers or lockable storage compartments when leaving the space. The Co. will not be held responsible for missing items.
FACILITIES AND SERVICES
Air-conditioning and Lights
The Co. provides air-conditioning and lighting in the common area during operational hours from 8am to 6pm on Mondays to Fridays except weekends and Public Holidays.
General Services List
The Co. provides a list of services such as printing, scanning, secretarial services and more. Please approach the community team for the current list of these general services. The Co. reserves the right to make changes to the list when needed.
Mail Handling
The community team will place incoming mail into the designated mailboxes located on the second floor. For outgoing mail, stamps are available for purchase from our community team. A handling fee of 20% on stamp cost will be levied on all mail handled by our community team. All charges will be reflected in the monthly invoice unless special arrangements are required.
Meeting Room
Community members can make bookings of our Moot with the community team, subject to availability and on a first-come-first-serve basis. Any cancellation of bookings must be done according to the Co.'s guidelines.
Pantry
When using our shared refrigerator, community members are highly encouraged to attach labels to their food and beverages and store them in covered containers. Please return used utensils, plates and cups to the designated return area. Our community team will be clearing out the refrigerator every Friday afternoon for expired and rotten items and will not be liable for any losses.
OFFICE SUITES
Inventory and Condition Responsibility
The community member is responsible for any damages to the office, including but not limited to scratches or stains on the walls which are not caused by the Co. In the case, the walls in question will require a full face brushing to bring the walls back to their original condition. The corresponding charge is based on the entire wall area. To protect the walls and the wallpaper, please refrain from using adhesives and pasting things on the walls. The Co. reserves the right to charge for any additional repairs, painting works or maintenance work required. A cleaning fee will be charged upon the end of tenancy or if the community member, at the their option, chooses to relocate to a different space within the Co.
Logo
The community member is welcome to feature their company logo on the designated area outside their office. Please provide the logo to our community team and we will be happy to help.
BILLING
Annual indexation
Following any Commitment Term (including any extensions of the Commitment Term), we reserve the right to increase or decrease the License Fee with thirty (30) days' prior notice to the community member in accordance with the termination notice period.
Late Payment and Penalty
If payments are not received within seven (7) days of the invoice date, a penalty of 2% per month will be charged on the amount due. All charges are subject to revision at the discretion of the Co. and will be advised to clients accordingly.
Cancellation policy
Bookings can only be cancelled with a full refund up to 24 hours prior to the start time.
If the booking is cancelled within less than 24 hours of the scheduled time-slot, no refund will be given.
Billing rate
Pay only for the time you use.
Daily Rate:
45.00 SGD
Pay by the minute and stay as long as you want. You'll never pay more than the Daily Rate.
Get the App
To be able to instantly check-in to this location.
The Co.
Booking Submitted
Booking Details
| | |
| --- | --- |
| Reference Number | |
| Date | |
| Duration | Whole Day |
Payment Method