It's almost the end of Quarter 1 as we write this. We know that it's time for most people in Singapore to head back to the office as safe management measures ease.
But remote working in Singapore has also become an attractive and accepted notion for many companies. For some businesses, allowing their employees to work remotely is an attempt to reduce their costs. For others, it is the recognition that employees are no less productive if they are not physically present in a designated working space. The opposite is usually true – when employees can choose their hours and environment, they are more motivated to work.
As the end of Quarter 1 comes, many meet their bosses for an annual performance review. It's a great time to point out how well you've been doing so delicately you can increase your salary. If you have worked in one of our co-working spaces, you'll know one of the benefits of remote working is enjoying different co-working environments. However, what happens when you need to meet your superiors to ask for more opportunities and better pay?
While meeting them in their offices might be the typical arrangement, hosting them in a co-working space is beneficial for you as you have a home ground advantage. Besides, if your entire company works remotely, you'll have no choice but to host the meeting in a co-working space.
In this article, we recommend 3 of our workspaces in Singapore where you can have that chat.
Cosy, private corner at Geylang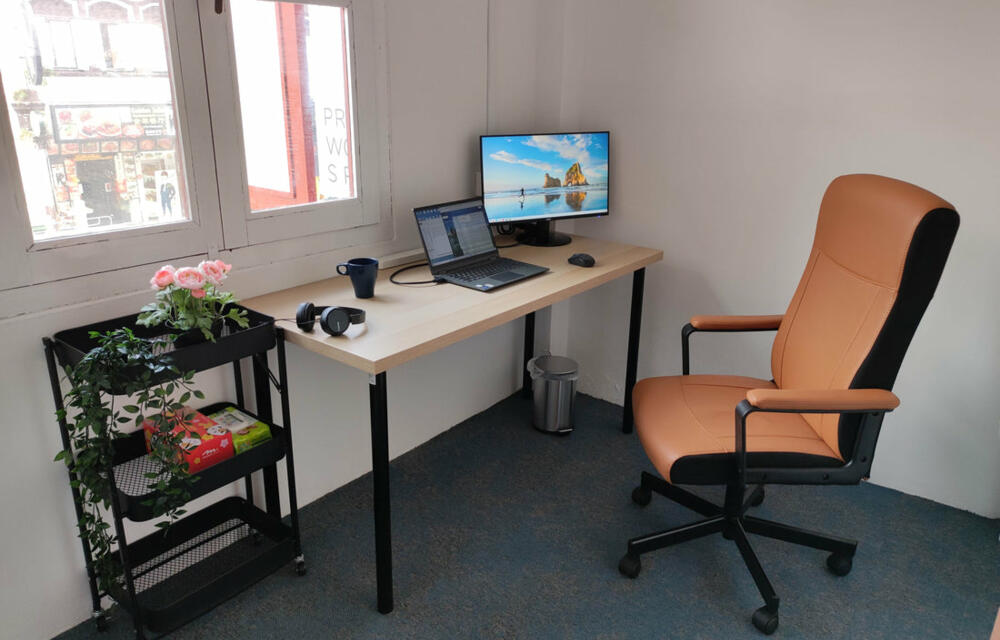 To start that conversation, you need a lot of privacy. Whether through a Zoom chat or meeting in person, it's best to find a space where you can concentrate.
This boutique private working space is perfect for meetings. You can rent individual rooms that are fully furnished and equipped with electronic devices. You can borrow headphones with mics at the concierge and use a computer monitor in the room. The rooms are soundproof.
So whether you have a Zoom conversation or meet your boss in person, you'll be assured that no one else is listening in on this conversation.
If a cold refreshing shower helps sort your thoughts before the chat, you'll be happy to know that this co-working space in Geylang also has shower facilities.
Best of all, it's open until 10 pm on weekdays. Those who also work on weekends are open from 9 am to 6 pm. You'll find that this aptly named Cosy Corner will help you get pumped up for that conversation or wind down after it.
https://www.deskimo.com/location/cosy-corner-geylang/
2.) N9 Offices near Chinatown MRT station
When you've been working remotely for a while, you might forget what an office setup looks like. That might be helpful when you want to ask for a promotion. After all, you do not want to be too relaxed even if you genuinely get along with your supervisor.
It helps to set the scene and get your mind in work mode, so we recommend this co-working space at Peck Seah Street. You'll be able to hot desk at one of their office cubicles, organised like a conventional office setup. The surrounding office buildings visible via the glass windows also extend the corporate working environment.
If you're hopping onto a virtual call, the formal arrangement with dividers between cubicles ensures privacy. Plus, your boss gets a professional-looking backdrop. You do not want a distracting background, so the cool tones and office layout of N9 Offices will add to your Zoom conversation. There are also meeting rooms for 2-4pax if you are meeting your boss face to face. Wifi, coffee and tea are provided. Printing facilities are also available.
https://www.deskimo.com/location/n9-offices/
3.) Bring it near home – The Midtown in Hougang
One way to win your boss's heart is to help them travel less. Even if you are working remotely, you can always opt to travel to a co-working space nearer to them instead of a Zoom call. This action conveys sincerity.
If your manager lives in Hougang, then opt for this bright, cheery co-working space in Midtown. Spatial Collective is an open plan co-working space built over two levels. It is located mere minutes away from Hougang MRT station. Decked out with modern Scandinavian tables and chairs, it's an unexpected find in a heartland area. You can book private meeting rooms with blinds for more privacy. Hot refreshments are complimentary so that you can offer your manager as many canned drinks as possible.
After the meeting, you can lock your belongings in their locker and explore the vibrant Hougang Mall. There are tons of dining and shopping options available there.
https://www.deskimo.com/location/the-midtown/
Conclusion
Having the conversation about pay increases need not be so difficult. If you're meeting your boss in person, we have a wide selection of co-working spaces in Singapore for you to host the meeting.
If you're doing it digitally, check out our blog for tips to help you improve your chances of climbing up the corporate ladder!
Are you looking for top-of-the-line coworking spaces with great amenities in Hong Kong, Indonesia, and Singapore? Read our blogs and download the app. Browse all the places you want and check in with a smile.
About Deskimo
Deskimo is the flexible work platform of choice that helps businesses navigate the new future of work. With us, you and your business can adapt to flexible work and pay-as-you-go across dozens of Singapore, Indonesia, and Hong Kong spaces.