Space@Deskimo: Keep yourself fit so you can be at the top of your game: best 3 remote working spaces in Singapore near gyms
If you work remotely, you'll be familiar with the advantages of working off-site at your own pace. One of those problems is a firm boundary between work and your life. Without healthy work hours, it's easy to neglect your physical and mental health.
A report by Gallup shows that many remote workers reported signs of burnout. Surprisingly, the numbers increased when the Covid-19 virus was at its peak spread.
Some reasons include a blurring of work-life boundaries as employees work at home. One way to prevent burnout is to make time for your health. That includes scheduling time for the gym.
To help you do that, we've shortlisted 3 of our co-working spaces in Singapore with gyms just around the corner.
1. The Hive at Vanguard Building
The Hive (Lavendar) is located on the sixth floor of the Vanguard Building. It's a spacious open plan environment with co-working desks where you can settle to hot desk for the day. The place has plenty of light and space between the furniture, which helps the mind feel less cluttered when working.
You can also rent their meeting rooms. This co-working space is interesting because it also houses a professional, fully equipped photography studio. If you need to take photo shoots for fashion clients or shoot commercials, these studios are available to book on the Deskimo app. There is also a maker space available for booking, perfect for artists who need to craft.
If you need to relax, there is also a cosy coffee lounge with a barista that serves freshly roasted coffee.
Once you're done with work, head over to a gym. The co-working space is near Bendemer MRT. You can hop on the train to go elsewhere and work out, but just ten minutes away from The Hive is chain gym outlet Anytime Fitness Boon Keng. You can pop into Locaba, which sells low-carb bakery products.
Anytime Fitness has plenty of outlets around Singapore, so if you have a gym membership, the ten-minute walk will give you a reason to say goodbye to your co-working mates and head over.
https://www.deskimo.com/meeting-room/hot-desk-368/
2. The Common Ground at Macpherson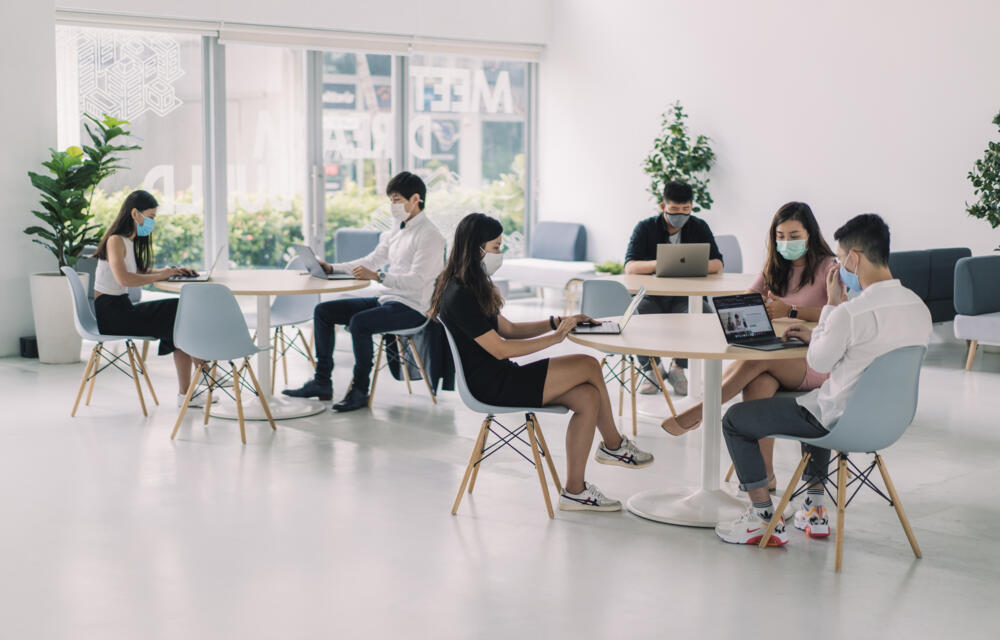 The Common Ground is located within a few minutes' walk from Macpherson MRT station, which means whether you're travelling on the train on the Circle Line or Downtown line, you'll still be able to reach there easily.
There is ample space for parking at affordable rates for drivers, so you don't have to worry about racking up a parking bill when you choose to hot desk at The Common Ground.
The space is set up like an office, so if you're looking for more privacy, this is an excellent place to go. You can choose to hot a desk at the rows of tables or work in groups at the communal seating. There is also a small outdoor area with low ottomans and hammocks for those who need a small respite.
Once you've finished your work, there are two gyms nearby. Choose between private gym Canvas Training or F45 Macpherson. Both gyms are located in the next building, so it takes a mere 5 minutes to lock up your laptops and head over to work out.
https://www.deskimo.com/location/macpherson/
3. Hot desk at Duxton Road
Suppose you need a more centralised location to meet clients, head over to Duxton Co at Duxton Road. This co-working space feels more like an expansive cafe area than an office. Decked out with modern Scandinavian furniture, geometric rugs and an exposed timber ceiling, it's almost like working at a resort.
Gold's Gym at Tanjong Pagar Road is three minutes away so that you can wind down after a long workday. Yogis, if you are looking to stretch, there are plenty of yoga studios around the area. For instance, Ziva Yoga is two minutes away.
This chic co-working space is surrounded by many hip bars and cafes, so check some of these restaurants out after you shut down your laptop and get your workout checked off your to-do list!
https://www.deskimo.com/meeting-room/hot-desk-383/
Conclusion
It is easy to work non-stop as a remote worker, especially in Singapore, where work is the top priority. However, one advantage of co-working spaces in Singapore is that most places close at 6 pm. So there's an actual hard stop to your activities. You're increasing productivity by giving yourself time to stop and do something else. We need time to think of better solutions.
Thus, we hope that this round-up of workspaces near the gym helps you feel and look your best since you're always near a workout place. You can find these workplaces easily with the Deskimo app. 
Read our blog and download the app to check out all our available co-working spaces today!